Isle Return is a voluntary program on Nantucket that benefits residents and visitors with Alzheimer's, Autism or other conditions who are at risk of wandering.
Caring for someone who wanders is a considerable responsibility. Nothing could be more frightening than the thought of a loved one with Alzheimer's, Autism, cognitive impairment or other condition becoming lost.
Isle Return Program helps Nantucket's public safety agencies manage the challenge of searching for and rescuing people who may wander. The program is geared toward ensuring a safe return for missing disabled residents and visitors of all ages.
Enrolling a loved one in the Isle Return Program helps caregivers provide an added layer of protection for loved ones with cognitive conditions from the potentially life-threatening behavior of wandering. Please click here for registration information.
Should a wandering event occur:
Family members or a caregiver call 9-1-1.


Trained public safety personnel use the information with the Isle Return Program portfolio to assist them in locating your loved one. In additional to local and state law enforcement agencies and emergency medical services, 9-1-1 dispatchers will notify Nantucket Cottage Hospital so their staff can be prepared should the missing person appear at that facility.


Once public safety personnel locate your loved one, they seek further medical evaluation if necessary, and return him or her home safely.
---
Additional Related Services/Resources are Available:
In addition to Isle Return, families with members at risk of wandering are encouraged to enroll in these programs:
The disability indicator program is voluntary for both the community and its residents and was created by a group of several different organizations representing the mobility, hearing, speech and sight impaired communities.
The information provided on the disability indicator form enables a special code to appear on the 911 call takers screen which alerts the call taker that a person residing at that address may require special assistance during an emergency.
Learn more about this program and complete the 911 Disability Indicator Form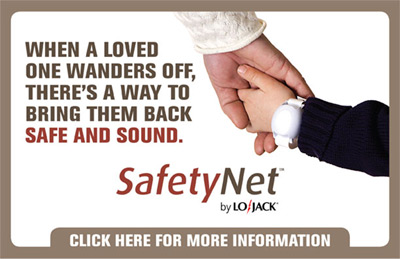 Public safety agencies on Nantucket are proud to bring the SafetyNet™ by LoJack service to Nantucket, offering peace of mind for caregivers of people at risk of wandering. When someone you love is affected by autism, Alzheimer's, Down syndrome, dementia or other cognitive conditions, the chance of him or her wandering and becoming lost is potentially high, and may lead to tragic consequences. Working hand in hand with public safety agencies, the SafetyNet service helps quickly find and bring your loved one home, providing you with additional protection and peace of mind. Click here to learn more.